Hardox
On the 10th of January 2014, Nigerian Foundries Ltd officially signed w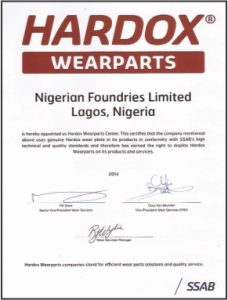 ith SSAB of Sweden and joined the HARDOX IN MY BODY exclusive worldwide members club. This privileged is only given to companies who have demonstrated a continuous track record of technical excellence to produce HARDOX parts with design stipulations for the Quarry, Cement, and Mining industries in Nigeria.
So, now besides being stockists of HARDOX plates, we produce a broad range of wear parts according to your application and with the support of SSAB we can find the best solutions for your wear problems. Our Engineering design department is in position to make drawings of your wear parts, improve on them and reproduce them out of various the HARDOX grades.
Last but not least, we wish to introduce SSAB's Chromium Carbide Overlay Plates which we intend to stock very soon in Nigeria. Hardfacing overlay products are ideal for extremely severe abrasive wear in applications with moderate impact. This means that at Nigerian Foundries Ltd we can produce products with a combination of Hardox specifications and Hardfaced Overlay plates.
Download the Hardfaced Overlay plate brochure.
Hardox Grades
Product/grade
Example of application
Ask for Fact Sheets

Hardox HiTuf
Hardox HiTuf is a wear resistance plate with extra high toughness intended for heavy section wear parts requiring extraordinary crack resistance.

Demolition tools,Cutting edges

Hardox HiTuf Data
sheet
Hardox HiTuf Dimensions

Hardox Extreme
Hardox Extreme is intended for applications requiring extremely high abrasion resistance. It can replace costly wear products like hard-faced overlay plates and high chrome white iron. Despite its hardness, it can be welded, cut, milled and drilled using standard workshop practices.

Hammers Knives

Hardox Extreme Data
sheet
Hardox Extreme
Dimensions

Hardox 600
Hardox 600 has a hardness of 600 Brinell, but can
still be cut and welded – an excellent plate for high
performance applications.

Liner plates,Hammers, Knives

Hardox 600 Data
sheet Hardox 600
Dimensions

Hardox 550
Hardox 550, with a hardness of 550 Brinell and
toughness equal to Hardox 500, is designed to
increase wear life but not at the expense of crack
integrity.

Measuring bins and Skips, Hoppers and Feeder Buffer bins, Buckets, diaphragm plates

Hardox 550 Data
sheet Hardox 550
Dimensions

Hardox 500
Hardox 500 is a bendable and weldable abrasion
resistant plate which is used in applications that
demand higher wear resistance.

Buffer bins,Grizzly bars Measuring bins and Skips

Hardox 500 Data
sheet Hardox 500
Dimensions

Hardox 450
Hardox 450 is an all-round wear resistant plate. Due to its high toughness, good bendability and
weldability, the plates can also be used for load
bearing duties in certain applications.

Rail road cars, Hoppers and feeders, Dumper bodies, wear plates.

Hardox 450 Data
sheet Hardox 450
Dimensions

Hardox 400
Hardox 400 is an all-round wear resistant plate. Due to its high toughness, good bendability and
weldability, the plates can also be used for load
bearing duties in certain applications.

Front loaders Dump trucks Buckets , wear plates Barges

Hardox HiTuf Data
sheet
Hardox HiTuf
Dimensions
BEST PRACTICE MATERIALS

We provide a broad range of castings out of globally accepted and recognized materials.
Grey Irons, Ductile Irons, High Chrome Irons, Ni-Hard Steels, Moly Chrome Steels, Martensitic Steels, Stainless Steels (heat and corrosion resistant), Manganese Steels
View our capabilities